Welcome! This blog tracks the real estate market in the Central Shenandoah Valley, featuring market data and analysis, an exploration of common buying and selling questions, and candid commentary on all things real estate.
If you are interested in discussing any of the topics on this blog, or the details of your specific real estate situation, call or e-mail me!
I am frequently asked whether PMI (private mortgage insurance) is a good thing, or something to avoid. To start with ---

private mortgage insurance is an insurance policy that protects the lender in the event that a borrower stops making payments, the lender has to foreclose, and they can't recoup all of their costs

. Despite the fact that the lender is the beneficiary of the insurance policy . . . you guessed it, the borrower gets to pay for the policy!

PMI is required (by most lenders) for any mortgage where the loan-to-value ratio is greater than 80%. In other words --- if you have less than a 20% down payment, you will likely have to pay PMI.

PMI is typically paid on a monthly basis --- with every mortgage payment. However, with most lenders, you can avoid paying PMI by paying a slightly higher interest rate. Don't be fooled --- the intent and result are essentially the same.

When a borrower has to finance more than 80% of the purchase price, a lender is a bit more worried about their future ability and likelihood to repay than if they are financing 80% or less. The lender mitigates this risk by taking out an insurance policy, and having the borrower pay for it. The policy can either be paid for (by the borrower) each month, or up front. Thus the option of either paying every month, or over the life of the loan (in the form of a slightly higher interest rate).

I suggest that most of my clients pay the PMI each month.

Typically, the monthly payments are about the same regardless of whether you pay PMI each month (with a lower rate), or do not pay PMI (and have a higher rate). So . . .

If you are paying PMI, you can eventually have the PMI portion of your loan payment removed, and lower your monthly housing cost --- as soon as your mortgage balance is 78-80% of the appraised value of your home.
If you are not paying PMI, you will always have the higher monthly payment, despite the fact that you will (at some point) owe less than 80% of the appraised value of the property.

And...don't forget that the PMI cost is

tax deductible.



One final note --- if you have monthly PMI costs, at some point you will want to have that part of your payment removed. Before you hire an appraiser to appraise the property and prove that your loan balance is less than 80% of the appraised value, check with your bank on their process. Many banks have a list of appraisers that are acceptable for this process, and some banks insist that they generate the appraisal request.




Recent Articles: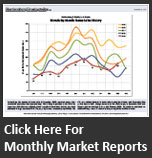 Subscribe

Receive notifications of new content on this blog, via e-mail or RSS reader.