Welcome! This blog tracks the real estate market in the Central Shenandoah Valley, featuring market data and analysis, an exploration of common buying and selling questions, and candid commentary on all things real estate.
If you are interested in discussing any of the topics on this blog, or the details of your specific real estate situation, call or e-mail me!
If you hadn't figured it out yet --- I love data analysis. In the world of real estate, there is a lot of data that can help buyers and sellers make intentional, intelligent decisions. Ask me a question, and I'll work to find the data that can give you a thorough and factual answer. But, there is more to the story than the numbers...Many Sellers Are Standing Firm


The past year (2007) showed lower real estate activity than the several years prior, and one significant factor in that reality is sellers who stood their ground on price. It is reasonable to think that we may have seen more real estate activity if sellers had accommodated in their asking or selling prices. Average sales prices increased between 2006 and 2007 in almost all segments of our market. If sellers (collectively) had been willing to sell for a small percentage less, I suspect that sales activity would have increased accordingly.

Many Buyers Are Bashful



In working with buyers, and talking to possible buyers, I have come to realize that buyers in our market are (collectively) hesitant to make the "crazy offer." While there are some buyers who do indeed make those offers, many buyers do not make an offer significantly lower than asking price if they think the price is too high. This, coupled with resolute sellers, has led to a stalemate of sorts. Buyers hesitate to make the offer, and sellers hesitate to lower the price.

Excitement Turned Into Trepidation


Real estate values escalated rapidly between 2002 and 2006. Buyers and sellers in our market became very excited about the extraordinary gains being imagined and realized by owning real estate. It seemed like people couldn't buy enough real estate fast enough. Nobody wondered or questioned whether values would increase -- they stayed awake at night marveling at the 10%, 20%, 30% that they had or would gain by owning real estate. These days, buyers and sellers stay awake at night for a different real estate related reason. Sellers wonder if their house will ever sell. Buyers wonder if they should really be buying. We don't feel the same excitement level for buying and selling real estate.

The Effect of National News


We hear terrible things about plummeting home prices in other communities across the county --- or about foreclosures --- or bankruptcies. National news outlets are excitedly covering the worst of the worst situations --- which many people locally assume are happening in our local market as well.

Where Do We Go From Here?


It is essential that buyers and sellers have a firm understanding of their segment of our local market. Don't be distracted by other areas of the country, or other price ranges locally. It is important to make decisions based on market realities, and out of the context of your personal situation. Owning real estate is a good investment, but buying and selling decisions must be made thoughtfully.

Recent Articles: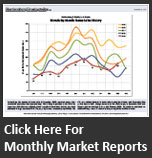 Subscribe

Receive notifications of new content on this blog, via e-mail or RSS reader.